WARNING: This article contains references to sex, do not continue reading if you are offended.
Tow Cap is a product that appears in the Cars series.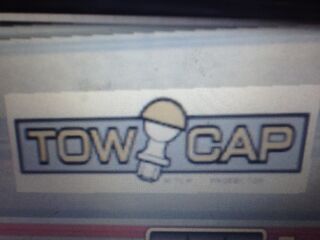 Description
Edit
Tow Caps are Hitch Protectors, used to shield a vehicle's trailer hitch from anything that would otherwise damage or destroy it. Some speculation also has it that Tow Caps are actually the car counterpart to condoms, which is worn by a female when having sex to prevent pregnancy.
Appearances
Edit
Tow Cap appears occassionally on billboards, and also appears as the sponsor of Clarkson.
Tow Cap and Leak Less are both considered "Adult Humor", and not suitable for children.
Ad blocker interference detected!
Wikia is a free-to-use site that makes money from advertising. We have a modified experience for viewers using ad blockers

Wikia is not accessible if you've made further modifications. Remove the custom ad blocker rule(s) and the page will load as expected.