Stadium Race 1
is the first stadium race in Cars: Mater-National Championship, unlocked when 25 bolt banners are obtained.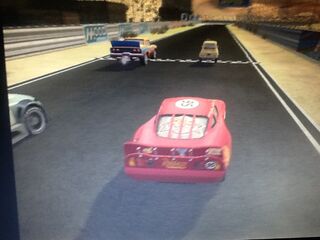 Story Mode
Edit
Lightning and Doc are driving up to the new stadium, talking about how the stadium will help the town, and they then see that some cars are racing on the track before them, and they drive in to start a race as well.
Later, Lightning and Mater are seen discussing what will be happen during the game's events and how Lightning met Giovanni, but Lightning then reminds Mater of that he will be racing against Emma over at the Rustbucket later, and Mater jets off to prepare. Lizzie then stamps Lightning's rear window with a sticker for winning the race.
The track like the other stadium races, is a very simple, unpaved road, however unlike the later races, this one tends to have tunnels and ramps.
Award Info
Edit
The player will earn 8 bolt banners, a sticker, and their second boost segment for winning, while winning later on wins the player 8000 points.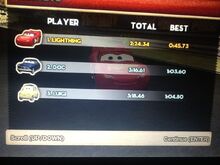 On the Wii and PS3, the player starts in the back as opposed to the middle. This race can be noted as it is the only one where a slower car (Barry) starts in the front and a faster car (Doc) starts next to the race's slowest car (Luigi).
In the Cut Scene, Doc refers a car on the track all covered in stickers, this could be a very possible cameo of Chick Hicks.
This is the only Stadium Race where Gudmund does not appear as an opponent.
In the end scene, a slight view of Lightning's rear can be seen before Lizzie appears, and Lightning can be noticed wearing the sticker when he should not have earned it yet.

It also may be noted that Lizzie simply slaps the sticker right on, meaning it should not be placed behind the bars of Lightning's rear window, it would go in front of them.
Ad blocker interference detected!
Wikia is a free-to-use site that makes money from advertising. We have a modified experience for viewers using ad blockers

Wikia is not accessible if you've made further modifications. Remove the custom ad blocker rule(s) and the page will load as expected.