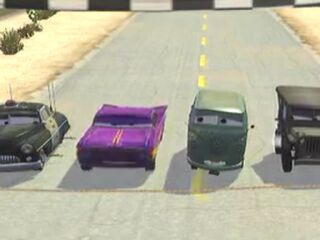 Sarge's Off-Road Challenge is a road race in Cars: The Video Game.
Story Mode
Edit
In the event's cutscene, Lightning is shown exhausted after having done Sarge's Boot Camp, Sarge says he'd like a shady garage, a nice car wash, and a cool ration of fuel. Lightning says yes, but Sarge says too bad, and challenges him to a race.
The race starts next to the green fences by Sarge's Boot Camp, and leads behind the compound. After navigating around the outside of the compound, racers head past Willy's Butte into the Canyon, with a few turns and shortcuts, which leads uphill towards three gigantic sand hills, which will propel you into the Boot Camp itself, where you will come out through the fence back to the finish line.
In arcade mode, the fastest CPU car will no matter what be Sarge.