Radiator Springs GP is a road race in Cars: The Video Game.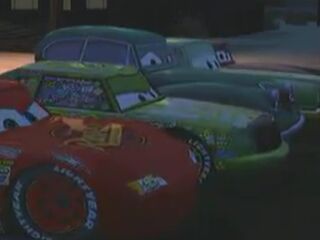 Story Mode
Edit
Mater Is the announcer like in Lightning's Dream along with Darrell Cartrip. Mater says he should call his relatives since he is on Live TV, and as they speak, the event's racers line up. Mater asks Darrell who Chick is, and guesses right, saying "Ugly green car with the moustache". Although El Guapo shares this in common, he doesn't respond, Chick responds by calling him a spitcup. The race then starts.
The track starts right where the original race did, and follows the same turns as Boostin with Fillmore, and then follows the track of Sarge's Off Road Challenge, but backwards until returning to the main road. The race is only two laps long, it also is set at night.
This is the only Radiator Springs road race where Boost, Wingo, DJ, and Snot Rod appear as opponents in arcade mode.
This is the only race that heads through the back of the Nature Preserve (the others being Boostin' with Fillmore and Doc's Check-Up) and has the main shortcut blocked off.
Although Darrell Cartrip and Mater clearly met in the cut scene, Darrell admits a few years later in the second movie that he had never met Mater before.
Ad blocker interference detected!
Wikia is a free-to-use site that makes money from advertising. We have a modified experience for viewers using ad blockers

Wikia is not accessible if you've made further modifications. Remove the custom ad blocker rule(s) and the page will load as expected.