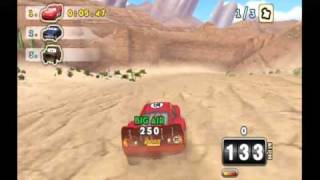 Radiator Springs Circuit is the first event of Cars: Mater-National Championship, and the first of nine road races.
Story Mode
Edit
This event also has a Cut Scene, where Lightning almost crashes head-on into Philip, who (despite a time paradox) has trouble driving on the right side of the road. Lightning offers a private driving lesson, but Fred joins in, overhearing a private racing lesson. Doc appears and says they are blocking the street, but the two get excited, as Doc is the Fabulous Hudson Hornet. Barry also appears and asks if there is a race starting, so the five cars agree to a race. Lightning says they'll come back later for the promised driving lesson.
The track begins on the main road and heads north through a forked dirt road new to Mater-National, the right road is faster, but it is harder to make the turn into the trench the race then enters. When racers come out, they drive along the fenceline of Sarge's Boot Camp (in which more skilled players tend to jump over certain fencing as a shortcut) past an oil puddle which slows down a racer if driven into, and back to the finish line.
Award Info
Edit
The player will win 5 Bolt Banners for placing first, once they win the banners, they will instead be awarded 5000 points.
This is the only event in Cars: Mater-National Championship where every car involved in the event appears in the Cut Scene.
This is Fred's only road race appearance.
Other than that the race enters the trench and takes the newly added cut off the road, the track is identical to Radiator Cap Circuit.