Papo
Character Information
Playable?

No

Gender

Male

Make Model

1947 Chevrolet Coupe

Alignment

Neutral

Body Color

Purple, blue

Eye Color

Blue

Occupation

Unknown

Performer

Rafael Sigler
Papo is an unplayable character in Cars: The Video Game.
Cars: The Video Game
Edit
Papo came with El Guapo to Radiator Springs from Mexico to race against Lightning McQueen, and soon got into a rivalry with Fletcher and Gerald. He can only speak Spanish and has no dialogue in cut scenes. He appears only in Radiator Cap Circuit and North Desert Dash. He is not playable.
Cars: Mater-National Championship
Edit
Although he is not actually in the game, he has been added into this game as a playable character through modding with his Xbox 360 files.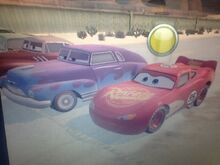 Cars:IGNITE Remake
Edit
Papo is very likely to be a playable character, although he is not confirmed yet.
Papo is purple with blue flames. His body is similar to Doc (and his hood ornament is identical), and some players mistaken him for Doc. His rims ressemble jet engines and his exhaust pipes are arranged just like Lightning's.
Personality
Edit
Papo's personality can barely be understood, due to him only being able to speak Spanish. He potentially is selfish and cocky like El Guapo.
Abilities
Edit
Papo has no displayed abilities, and is the slowest car in both Story Mode appearances, however, he is seen in a higher level than all the cars he was beaten by in Sheriff's Hot Pursuit.