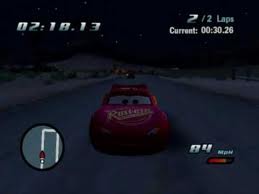 Mater's Backwards Lesson is a minigame in Cars: The Video Game.
The goal is to complete 2 laps around Radiator Springs while continuously flipping around as Mater does. This is not a race, although it seems like it at first and if you pass Mater, you must stop until he takes the lead again.
Award Info
Edit
The player will become able to drive backwards at almost all times once the event is completed.
Since Mater is supposed to guide the player, he cannot be played as in this event in arcade mode.
Powersliding cannot be performed in this event.
Backwards Driving will only be unlocked for use outside of the event if the player completed it in story mode, not in arcade mode by using cheat code "IF900HP".
In the movie, which was set prior to the game, Lightning was shown to be clearly capable of backwards driving, so it is unknown why he would have to learn it again.
It is unknown why the player would not be able to drive backwards if they are playing as Mater in an event other than this prior to completing this event.