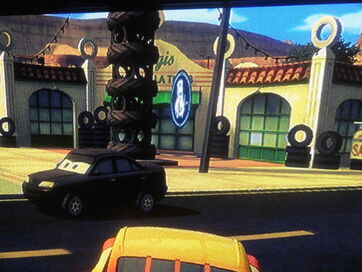 Luigi's Casa Della Tires is a location in Cars: The Video Game, Cars: Mater-National Championship and Cars: Race-O-Rama.
Appearance
Edit
Luigi's Casa Della Tires is a shop selling tires in Radiator Springs owned by Luigi and his assitant Guido. Out front there is a large stack of tires Luigi calls "The Leaning Tower of Tires".
Cars: The Video Game
Edit
Customization and using Monster McQueen in exploration was yet to be integrated, but Luigi's still plays a role by being the location of the event dot for Luigi to the Rescue and Monster Truck Mayhem.
Cars: Mater-National Championship
Edit
Luigi's is where Lightning can change his tires if he has found any of the eight hidden wheel sets spread across the explorable areas, but he can only wear them in story mode. The event "Big and Strong Again" also takes place here, once completed, the player can go to Luigi's to change between normal Lightning and Monster McQueen in exploration mode at any time. "i Wanna be a Monster too" also partially takes place here, where Mater smashes through the wall after having been turned into a Monster Truck. In fhe final end scene, Koji can be seen receiving a tire change at Luigi's in the background.
Cars: Race-O-Rama
Edit
When changing tires, the player's Lightning will be shown inside of Luigi's, like in the prior game.
Even though Monster McQueen is depicted in all three pre-Cars 2 games, he can only be used in exploration in Cars: Mater-National Championship.
Portraits of various characters such as Otto, Emma, and Vince appear in the building in Cars: Race-O-Rama.
In Cars 2: The Video Game, holograms will appear of Luigi and Guido in their "Lightning Fan" alts in the store when no racer is using them.
Ad blocker interference detected!
Wikia is a free-to-use site that makes money from advertising. We have a modified experience for viewers using ad blockers

Wikia is not accessible if you've made further modifications. Remove the custom ad blocker rule(s) and the page will load as expected.