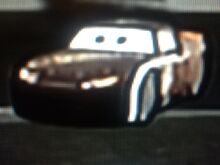 Name: Joltsen
Gender: Male
Occupation: Piston Cup Racer
Color: Black, Orange, White
Eye Color: Blue
Relatives: ???
Friends: Lightning McQueen, Chick Hicks (possibly), Smorter, Joltsen's Pitty, Joltsen's Hauler
Enemies: ???
Make Model: 2006 Dodge Charger NASCAR
Voice: ???
Personality
Edit
Joltsen does not have an actual persona, as he (and his 17 clones) can usually have any of 11 different voice sets (while the other 7 are voiceless), even though most of them lack any persona or even quotes.