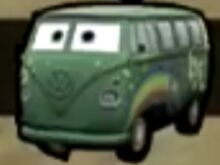 Name: Fillmore
Gender: Male
Occupation: Organic Fuels Salesman
Color: Green
Eye Color: Red
Relatives: ???
Friends: Sarge, Lizzie, Lightning McQueen, Luigi, Guido, Sheriff, Red, Ramone, Flo, Doc, Sally, Mater
Enemies: Chick Hicks
Age: 58
Make Model: 1960 Volkswagen Kombi
Voice: George Carlin
Personality
Edit
Fillmore is the clear opposite of Sarge, never willing to fight, and telling foes things such as to "love their neighbor" or "conserve their fuel". Most of his quotes end with words such as "Man", "Dude", or ''Bro''.