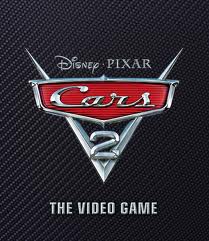 Cars 2: The Video Game is the fourth game in the Cars series, released in 2011 on various systems of it's time.
The game does not really have a story, it is set in a lab called C.H.R.O.M.E Academy, where they run simulations which end up being the game's events.
Characters
Edit
Playable Characters
Edit
Finn McMissile
Holley Shiftwell
Francesco Bernoulli
Raoul CaRoule
Carla Veloso
Jeff Gorvette
Nigel Gearsley
Miguel Camino
Shu Todoroki
Max Schnell
Professor Z
Grem
Acer
Tomber
Miles Axlerod
Chuki
Daisu Tsashimi
Downloadable Characters
Edit
(characters unlockable only by buying DLC packs which are available only on the PS3 and Xbox 360)
Rod "Torque" Redline
Victor Hugo
The Queen
Uncle Topolino
Unplayable Characters
Edit
Green Hugos
Yellow Hugo
Blue Pacer
Red Gremlins
Purple Gremlins
Eurostars
Green Ford Puma
Red Ford Taurus
Windstar Minivan
Airport Loading Truck
Tanker Truck
Airport Truck
Radiator Springs RVs
Bridge Boats
Palace Guards
Double Decker Buses
This and Cars 3: Driven to Win are the only games currently to have 4-player Vs mode.
This, Cars 3: Driven to Win and Cars: The Video Game are the only games where multiple players can pick the same character.
Ad blocker interference detected!
Wikia is a free-to-use site that makes money from advertising. We have a modified experience for viewers using ad blockers

Wikia is not accessible if you've made further modifications. Remove the custom ad blocker rule(s) and the page will load as expected.