Banks
Character Information
Playable?

No

Gender

Male

Make Model

Lux Motors Co. Piston Cup V8

Alignment

Neutral

Body Color

Blue, black

Eye Color

Blue

Occupation

Piston Cup Racer

Performer

Unknown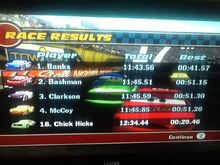 Banks is one of the 18 Piston Cup Racers that rival Lightning in the 2006 Piston Cup Season, he is notably the third slowest of them all.
Cars: The Video Game
Edit
Banks appears in Piston Cup Races, and normally places 17th in all five races. Like all 18 generic Piston Cup Cars, he is not playable.
Cars: Mater-National Championship
Edit
None of the Piston Cup NPCs returned, but there are mods that make Banks appear in the game as a playable character.
Banks is blue and black with the number 34 (sometimes 33) on his doors, light stickers, and roof. He is sponsored by Mood Springs.
Banks is a clone of Joltsen.
Banks, Cortland, and Suregrip are the only Piston Cup Racers whose color varies depending on the version of the game. Banks' body becomes darker on the Wii and Xbox 360.
Banks is the only Piston Cup Car to have dirt around his front bumper.
Banks and Riley are the only cars to have identical rim colors on the Wii version of the game. (other than black)
On the Xbox 360 version of the game, due to the number changes, McCoy loses the title of having the lowest number of any non-playable Piston Cup Car, and that title is given to Banks.
If done correctly, player influence can allow Banks to come in first In a single-player race, he however will sometimes be faster in a two-player race. These and mods that make him faster are the only three ways his name and status icon can be unveiled.